Day 2
August 8th, 2017
Mobile, Ala

After a great nights sleep, I was up at 6am, and gettting ready for the 6:30am Mass at St. Dominic.  Chris advised he had about 15-20 regulars for the daily Mass.  He was already gone.  Weather app put pockets of light rain between here and Meridian, Mississippi.   North of the river a large area of heavy rain was located.  Today I was repeating Days 4 and 5 of 1973.  I stepped outside and the hot humid air fogged my glasses.   The air was so thick, moisture gathered on nearby car windows and such.  The atmosphere was very unstable, and even with broken clouds you felt the sky could dump rain at any second.


My first thought was jus to ride it out in Mobile.  "I have comfortable digs here, not costing me anything either, perhaps I'll just lay over a day and make it up later."  That would mean a somewhat long ride when I DID get bak on the road.  Gadsden, Alabama via Decatur, from Meridian.  Not that many miles, but this is not Nebraska where the long open straights over isolated lands equals FAST running.

After Mass I looked at the weather again, and decided to move on, main reason?  I just didn't want to sit around ALL day. I wanted to be in the wind.

It was on this morning I decided to give my CB 1100 EX a name.  That would be a first for me, but this bike has just that much character.  I decided on "Lil Red."  Everybody knows a Big Red somewhere.  But compared to my sport touring bikes the CB is kind of small.  So there you have it.
Chris walked me downstairs.  He had another meeting at 9am.  I think this one had something to do with the attached school to the church.  I strapped down the Moto Fizz to the seat of Lil Red.

"Ride safe"

"Always"

I headed out of Mobile on I-65 North and took the U.S. 45 exit at Prichard.  The city is the Detroit of Alabama, a moribound abyss of closed up rotting store fronts, crime infested neighborhoods, a corrupt police department, with city debts that will never be repaid, and U.S. 45 runs right through the middle of all that.  It was nothing like this in 1973.

"Lil Red please don't fail me now."  I need not have worried, in all my years and miles, I've never had a Honda quit on me.

A few miles north of the city I came across a large house, not that old, just flat out abandoned and empty.  I went back to it for a picture but the slope of the road was not enough to set the stand of the CB 1100.  The highway was busy and I feared someone would hit me while I juggled to find a spot to sit the stand.  

A SUV pulled in front of me.  The driver got out, wearing a Harley T Shirt.  "You ok?"

"Yes, thanks for checking!"

The outskirts of Prichard not exactly a nice place for a guy on a shiny new bike with a few bucks in his pocket.  I was most appreciative of this man's gesture.  I'll repay it next time I see a rider on the side of the road.

Disappointed by not getting the pic I wanted, I dropped Lil Red into first and sped off north to leave behind the morass of city known as Prichard.

I know I came this was way in 73 but I couldn't recognize anything.  A thick, green, underbrush bordered the road on both sides, and a light rain began to fall.  Not the kind that could wet me, but the kind that stung my face if my shield was up, which mine was.  I ride with just the sun shield down, but that wasn't a option today.

Traffic was thining out and the spitting rain eased up by the time I arrived in Citronelle, that was preparing for the upcoming school season.  In my day we ended summer vacation somewhere around the 25th of August, but in the modern era they return to school near the 10th of August.  That has to suck.  As bad as I hated studying it would have really torqued 
my rear end to be back in school almost a month before Labor Day.

The ride to the state line was good, and again I spent most of it thinking back to my 73 ride and how blessed I am.

I had special business at the state line.  My Iphone had all the pics of the 73 trip, including several of the Alabama-Mississippi State Line.  Back in the day the state had a picnic table at the marker for motorist.  They were common all over.  I wanted to see if I could find the spot.

The modern National Geographic atlas I use said U.S. 45 in Mississippi is 4 lane divided now, that wasn't the case in 1973.

Arriving at the area in question I began looking around.  "I don't see it."  The berms looked entirely different.  I found a nice place to park the CB, and dismounted.  I knew the table was on the west bound side of 45.  With phone in hand I walked up and down the shoulders looking for the scene in the picture below.  I just couldn't find it.   I settled on the scene in the following picture.   The trees seem to be the right configuration, it was a best guess.  If not the THE spot it is very close to it.  I had to factor 44 years of tree growth etc into equation.  Once I did that things seemed less fuzzy.
​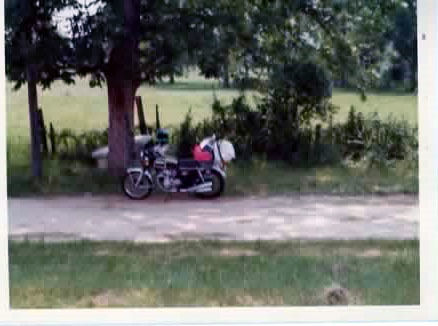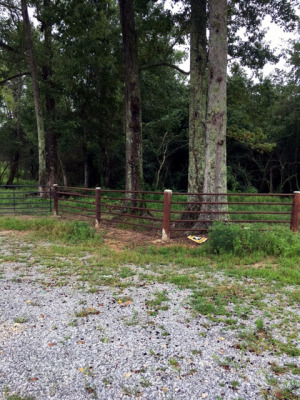 ​
In a educated guess situation, I believe the 1973 pic was in front of one of the the trees in this pic.  I took into account the field in back of the 73 pic, and  the slope of the highway down to the table.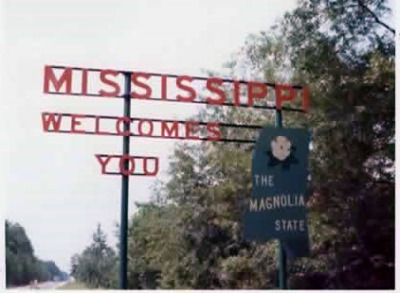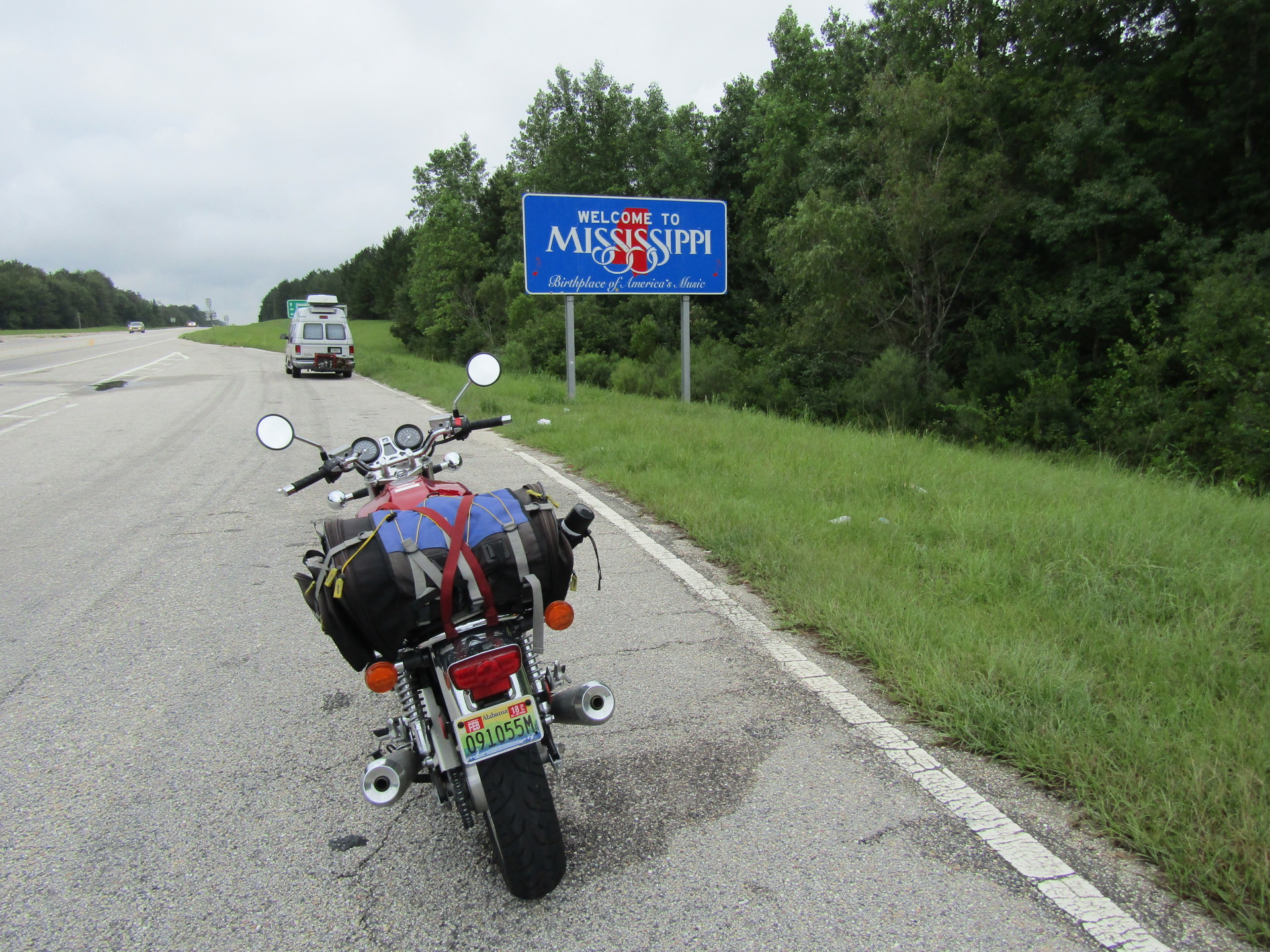 On a humid, damp day in 2017, I spent 30 minutes walking the berm in a effort to put in perspective 44 years.   It was hard to do, because so much has happened!  But I do know this, I love riding as just as much as I did that hot, sunny day here in 1973, and I love my life!  If given the oppurtunity, I would change very little about it.  Anybody that says they wouldn't change ANYTHING in that scenario is not being honest.  All of us would change something. My business completed here, it was ttime to ride.

U.S. 45 is 4 lane all the way to Meridian, heck all the way to Corinth, Missisissippi if truth be known.  That means its probably going to skirt around the small town from here going north.  Towns back then I rode down Main St.

It began to rain again.  Something that would plague me the next 3 days.  I brought Lil Red up to 75 mph and wished he had cruise control.  Traffic was light.  I knew the highway had to be much different than 44 years ago.  The southbound lanes have to be the old highway.  I could tell because the homes and farms on the eastside were fewer, and newer.  There were no 50 year old homes east because many were torn down to make way for the new northbound lanes of 45.

The CB 1100 went on reserve near Shubuta so I topped off at a Standard station on the westside of the highway.  He took in 3.3 gallons.  Like Alabama, Mississippi employs a lot of Native American names when it comes to counties, rivers, and cities.

When I finished gassing up, I went inside for a snack.  I bought a bag of chips and Mountain Dew to knock back a little hunger pains.  Rain was still parked in the north.  "I'll ride on to Meridian and take another look."
I punched the Lil Red to life and the exhaust rumbled.  "Dang this bike sounds goooood."  I thought.

The spitting rain lifted but came back 10 miles later.  It was a frustrating weather pattern.  The storm wasn't moving the normal west-east, but was stalled in a swirl.  It meant you'd ride awhile in a PC sun, and then back into dark clouds and rain.

The last few miles into Meridian were the same as 73.  A few curves, a long down hill, and then the city limits.  I've been through Meridian several times over the years bound for things West, such as California or Texas.  The chips from 35 miles ago were gone, I was downright hungry now.

I rode down the service lanes and found a Pizza Hut on the north side of I-59, which splits right down the city's south area.
It was a case of bad timing, 4 guys in a SUV pulled in 10 seconds ahead of me and were inside before I could get my gloves and helmet off.  "Dang they're gonna decimate the buffet before I get a chance, ain't gonna be nothing but that awful pineapple pizza left when I get up there, I can kiss the thin crust pepperoni good bye."

I hate to be I told you so guy, but that was exactly what I happened, down to the pineapple pizza.  I grabbed some breadsticks to wait for the good stuff to come out.  Meanwhile 3 power company trucks pulled in with 4 linemen.  "Tell that joker baking pizzas to up the game, and put a bunch of pepperoni thin crust out."  I told my waitress.  "yes sir."

The buffet recovered and I had my fill.  Weather app said heavy rain and storms were 10 miles north of the city, right where I needed to go.  I was going to have make a decision.  Ride on to Decatur in and out of a heavy rain, with flash floods tossed in, or hole up here in Meridian.  Unlike my cross country tours I had no flexibility when it came to routes on this ride, I had to stay true to 1973.

"I have no need to ride directly into that storm, I'm going to lay up here."  I booked a room at the Holiday Inn Express up the road and called it a day at 1pm.   I hung around eating cinnamon sticks, and talking on the Iphone at the Pizza Hut for another 45 minutes, before riding down to the HIE.

When I left the Pizza Hut the sporadic rain had changed into a light rain.  In 1973 I spent the night at the Virginia Court Motel, not far from here.  It was still there a few years ago.  I didn't see it last year when I came through here on my way to Arizona, I chalked it up to just not seeing it as I was trying to negoitate I-59 and could not take my eyes from the road ahead.  I was going to find it this time, but failed.  Twice I rode the service area east to west.  Just not there.  My guess it was torn down to make way for one of the many shopping plazas, or car lots.   "It should be easy to find, it has that diver on that sign."  I gave up and went to the motel to check in.
​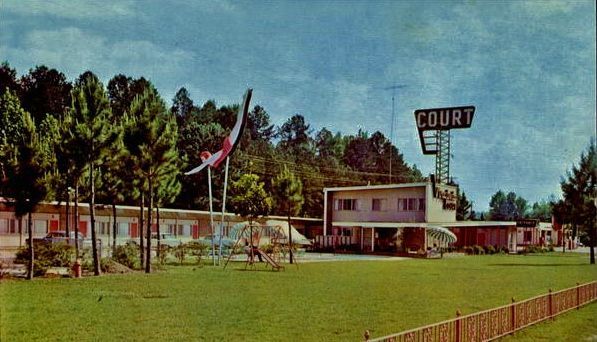 The Virginia Court.  Circa 1961

The motel honored my old folks discount, a nice rate.  If you read the archives of my tours from years ago, I stayed in flop houses.  Now things have changed a little, I don't apologize for it.  My part time job with the federal government compliments my state pension well, and soon I can add a social security check to the mix.  It's called upward mobility, but I never forget where I come from.​​

I ended the day with 165 miles.

Like most HIE's the staff was friendly and efficent.  I moved Lil Red to a forward parking spot, brought my things in, threw my bad on the extra bed, took my riding gear off, turned the tv on, and pondered my next move.  I had the afternoon off.​
​
​
I had nothing to do the next few hours, so layed back on the super comfortable bed and promptly took a 1 hour nap.  It was good.  Upon waking I strolled to a con store next door for a bag of popcorn, came back and watched the news, while I answered a few emails, and text messages.  
Finished the day at 165 miles.
I put the Iphone on charge while I was in the shower.  Nothing like a hot shower and shave on the road.  Feeling human again, I took a short walk up the drive to the El Norte Mexican Cantinia.  Excellent TexMex.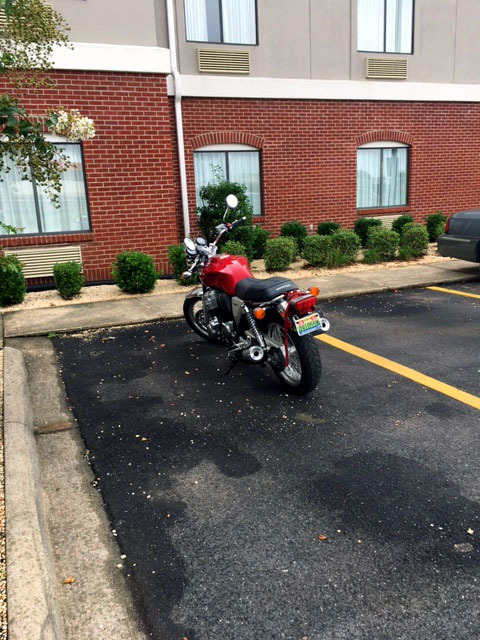 Lil Red at the Meridian, Miss. Holiday Inn Express.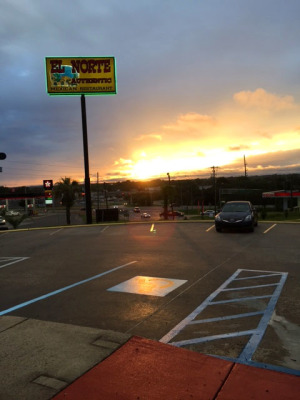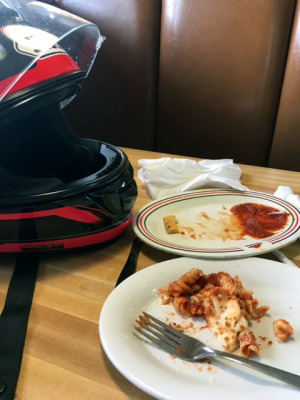 Days end in Meridian.  Nice room, good food, good riding on fine machine.  Doesn't get any better.

I had some excellent Tex Mex at the El Norte
Back at the room I pulled my TIVO app up on my Iphone.  This gives me access to my unit back home.  Anything I have recorded is available, or I could watch my local cable live.  The short version is my Iphone can do anything my home TV can.  Pair it with a Netflix account and a long rider is covered.
One last check of the weather looked the same.  Stalled rain to the north.   "Maybe it moves out by morning."  My plan was to over night in Decatur, and then a short ride to Gadsden the next day.  Now I'm riding all the way to Gadsden.  I guessed a 350 mile ride.