Day 1
October 9th, 2013
​Prattville, Ala
 
 

After a 2 year hiatus I was getting back on the road.  It seemed longer than 24 months.  But today all was right with the world as I rolled up the garage door exposing the fully loaded ST 1300 to a cool, cloudy morning.  It felt like Fall today, just last week temps had been in the 90s.


I said goodbye to my wife.  "I'll call in a couple of hours."  After all these years we have a pattern.  I call her often during the day, just to check in.  It reassures her.  We have been empty nest since 1999, and all those years of just the two of us have brought us intimately close. 

"Becareful."  "You know I will, please don't worry, I'm good at this," and with that done I scooted up the driveway for the open road.


My goal for the day is Southern Indiana.  My son is in seminary in a small town not far from the Ohio River, so I'm going for a visit.  He was last home in August, and has 2.5 years before ordination.


The gas tank was 3 bars short of full, and I wanted non ethanol for the 13, so took Fairview Avenue East for the Entec station at 14 and I-65.  Dark, threatening skies loomed in the south, and made me doubt the radar screen on my weather app.  "It says no rain anywhere close, but those clouds look really nasty, but doesn't matter I'm heading north anyways."  Time stamp on the receipt read 6:29 am.


The ST took in about 3 gallons of the good stuff and I was ready to go.  I reset all the trip meters, and ordered the Zumo to direct me to the start of my custom route way up in Central Kentucky, 400 miles north of Prattville.
My brother and I pre checked the 13, the weekend prior.  Oil change, safety check on connections, and tightened down anything that could come loose.  All was good, but both tires were marginal at best.  They were low on PSI so we took care of that, but we could do nothing about them being cupped.  Tread was mostly gone, and this tour was going to come in about 2,000 miles.  I told my brother, " I dunno about these tires, but I'm going to try it, if I need a tire I can get one in North Carolina."  I thought about all that as I brought the Honda up to highway speed on I-65 North.


The cupped front tire, with a high wind screen, made the front end wiggle in truck turbulence, which I had plenty off as I passed many of them while riding through Chilton County.  Skies in the north were clear and I was anxious get there.


I've used I-65 north to escape Alabama on long tours more times than I can remember, and a few of those tours came to mind as I progressed through the Alabama countryside.  Nothing like a trip to California by way of Minnesota.


After checking the clock, I realized I was going to arrive in Birmingham at rush hour.  That thought came to fruition in Alabaster when traffic started backing up at the first exit for the city.  I cleared that snag in a few miles but ran into another near the 246 exit.  I had to go through downtown to get north, so I just resigned to the fact this was going to be the story next 15 miles-periods of free running, followed by bog downs at the popular exits.


I finally cleared Birmingham, and had to get back in the groove.  I noticed on the Garmin I had lost 15 minutes on the arrival clock.   "Oh well, nothing I can do about it, don't worry about trying to make it up, when ya make mistakes."


Past the construction on the north side of the city and on to Tennessee I rode.  Traffic thinned considerably, and the pace picked up.  Near Hartselle 2 semis ran abreast for several miles and slowed me.  I had a noticeable headwind, but nothing compared to a few other rides.


After a 130 miles or so it was time to get off the bike for awhile, so I took the Cullman exit 308 and found a Jet Pep con store a mile or so from the exit.  I rose from the saddle, lifted out my Bronson watch cap, and sauntered on inside.  A stout young lady was working the counter.
.
"Morning sir"  I get "sir" much more now that I'm close to 60, then I did in my early tours. back in the days when I was in my mid 40s.


"Morning, kinda cool up here in North Alabama"


"Where ya from?"


"Prattville"


I bought a Mountain Dew and a Cliff Bar and went outside to the bench.  A 6 wheel delivery truck coasted into the driveway.  It was graveyard dead.  The driver stopped, and kept turning the key.  The motor turned but it never kicked off.  Frustrated, he climbed out and went in the store.  I called out-


"Sounds like its outta gas?"


"yeah but that ain't it, I dunno, I called the boss, they're gonna send someone."


"Oh ok."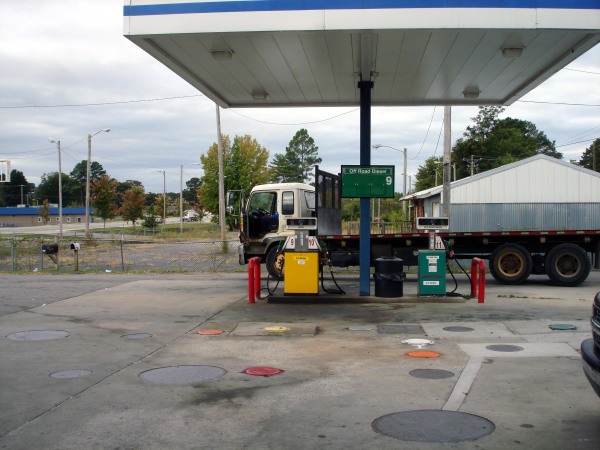 " No matter how long he turned the key, the truck failed to start."
​


I called Debbie and sent my son a text and got back on the road, it was a 20 minute stop.  I got back on I-65 and continued north.  "Next stop lunch somewhere north of Nashville, I'll need gas then too."


The Tennessee Valley came and went, and before I knew it was crossing into Tennessee and closing in on Nashville.  The partly cloudy skies of Alabama gave way to sunny skies not long after crossing state lines.
All this geography was old to me, so I kept my mind occupied with thoughts of high school days?  I don't know why, but there it is.


I ran with the screen high all morning to block the cool headwind and it played havoc with my mpg.  Computer readout had it around 38 mpg.  The 1300 gas gauge has been acting funny the last couple of years.  From 3 bars remaining it goes straight to one bar flashing, the reserve signal.  Doesn't stop on 2, just goes to reserve.  Not that big a deal but the sticker shock of going from 3 to 1 takes getting use to.


The garmin and the reserve flash both fired off within a few miles of each other.  I ignored both and kept on riding, intent on a combination gas and food stop.  In this part of the country I don't worry about finding gas.
The Goodlettsville exit seemed to have a lot of options so I took it looking for something to eat.  All the venues were fast food so I just went to McDonalds', the reliable WIFI connection the deciding factor.  I ordered the cheeseburger combo and took a seat near the TV.  Last year at this time I was peaking for the December marathon and a cheeseburger was not on my list of approved food.  But that was then, this is now.  I'm still running, but not training, so I eat somewhere in between the 2.  I mean a guy can't go through life and never eat a cheeseburger, can he?


The Ipad quickly connected to the WIFI, and I read the news while I ate.  I also sent Debbie a text I was eating lunch.  "Eating lunch, too noisy in here to call, talk later," was the message.


By the time I was finished the restaurant was busy, and I was glad to leave the noise.  The slight downhill made backing the ST out much easier than usual.  From there I went next door to a Shell station and filled the ST.  It took in 7.5 gallons, so I went pretty deep into reserve.


Before leaving, I vented out the Roadcrafter and removed the sweatshirt I was wearing under, but stayed with the leather gloves.


With the sun high in the sky I was back on I-65 churning out the miles at 75+, and slipped into Kentucky a few miles after lunch.  The ST was running true and smooth, and I appreciated being on such great all around bike.
The Corvette Museum in Bowling Green looked to be a busy place.  "I'd bet that'd be a interesting stop, maybe next time."


I rode by the Mammoth Cave exits, and the area appeared to be mostly quiet in this, the non tourist season.  I spent the night in Cave City a few years on another fall ride so was familiar with the area.


My custom route had me leaving I-65 just south of Elizabethtown.  It would be a somewhat complicated ride to Meinrad, but I was confident I had created the custom route without any flaws.  I was anxious to get off I-65 and counted down the miles to that event.


I passed a trio of riders just north of Bowling Green.  The small pack consisted of 2 HD Road Kings, with the 3rd transformed into a trike.  I could see their chrome glistening in the sun half mile away.


Finally, after 400+ plus miles of interstate droning I reached the SR 84 exit in the mid afternoon.  I was happy to be free of the freeway.  Immediately the ride turned much more interesting as the highway rose and fell between a row of well kept houses with white picket fences.


The scenery was mostly farmland and pastures.   Traffic was minimal and the riding was good.


In Hardin Springs I switched routes to SR 401 and followed it to SR 259.  I had numerous route changes before reaching the Ohio River.  "I hope I plotted this out right."  As I've said previously, creating a route in your study, doesn't always work out in the real world.  But so far so good.


I crossed Rough River Lake on SR 79 and motored up to US 60, along the way I passed a line of 3 cars, one pulling a trailer.


By the time I reached Hardinburg I was stiff in the butt, so peeled off the highway into a Marathon Oil con store for something to drink and a sweet snack.  I was going out the door when I noticed a picture on the board with a message asking if anyone knew the men in the pic, they were dressed in 1940ish army uniforms.  The snapshot was obviously from that era, and I wondered what the story might be on why someone wanted/needed their ID.


I sat outside on a picnic table and took things in.  "Been a great ride so far."  I sent my son a text that I should be on the scene in about 90 minutes.  I was back on the road in 20 minutes or so.  I was still good on gas.  "More than enough to make my final destination."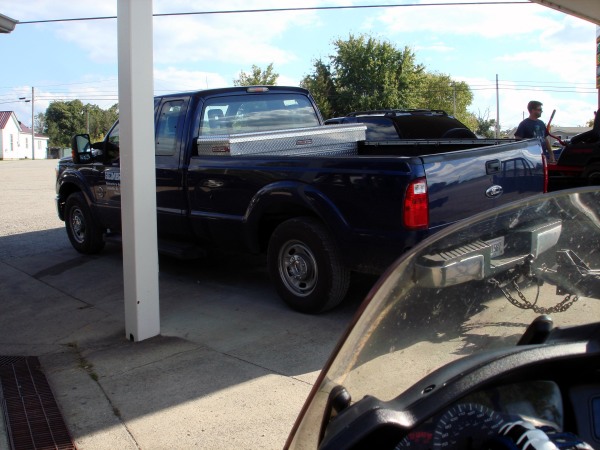 "This truck came in, blocking my carefully planned exit"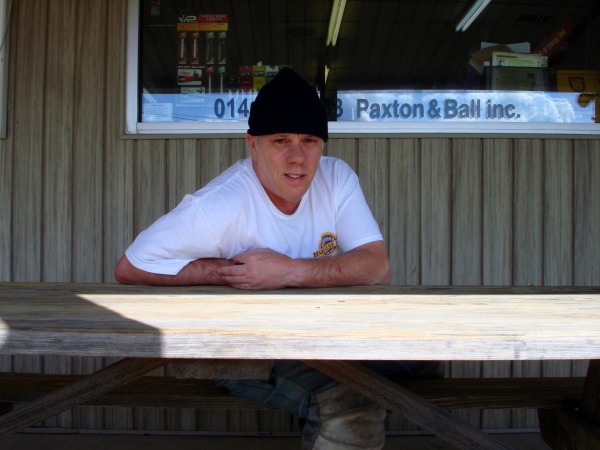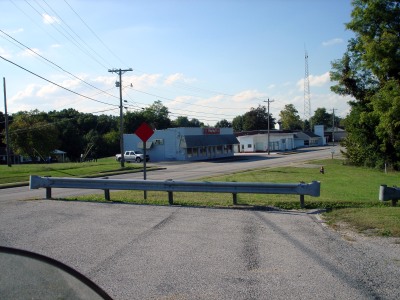 "Taking it easy in Hardon Springs.  Note Bronson watch cap."


The riding through Kentucky was excellent, and it quickly reminded me why I love long riding so much, and why I miss it.  The only problem the 1300 was handling like a hog.  The cupped and worn tires made the ST tough to hold when leaned,  It didn't want to tilt at all and when I did get leaned it drifted all over the place.


I was near the river when the GPS instructed to turn right.  "Hmmm must be a cut off to US 231," but no dice.  I followed the side road e a short distance and came to this barricade.  I could plainly see 231, just couldn't get to it.  I doubled back, ignored the zumo ,and found the highway.  "I guess I need to update my maps."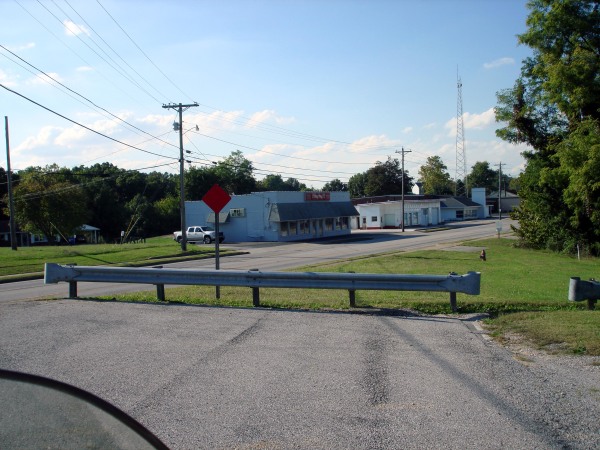 ​​    " I guess I need to update my maps."


U.S. 60 parallels the Ohio River a number of miles,  I followed it to the nearest bridge to cross over to Indiana.  That bridge is the Hatcher Bridge, Rockport Indiana.  A majestic structure.  I didn't stop for a pic, correctly thinking I could lift one later from the internet.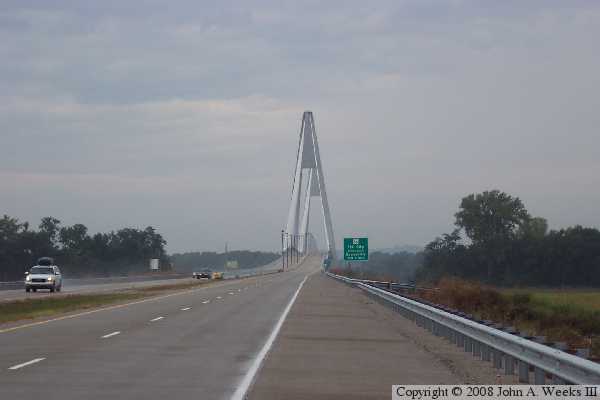 ​ "Crossing the Ohio River at Rockport Indiana.  The Hatcher Bridge."


After crossing the Ohio I left US 231, for SR 66, marked as a scenic route in the atlas.


Grandview, Indiana seemed like a nice quiet town on the Ohio River.  Several store fronts along SR 66 were decorated for Fall.  I took a short detour to a local park to get a close up look at the river.  It was wide, quiet, and the water looked very smooth.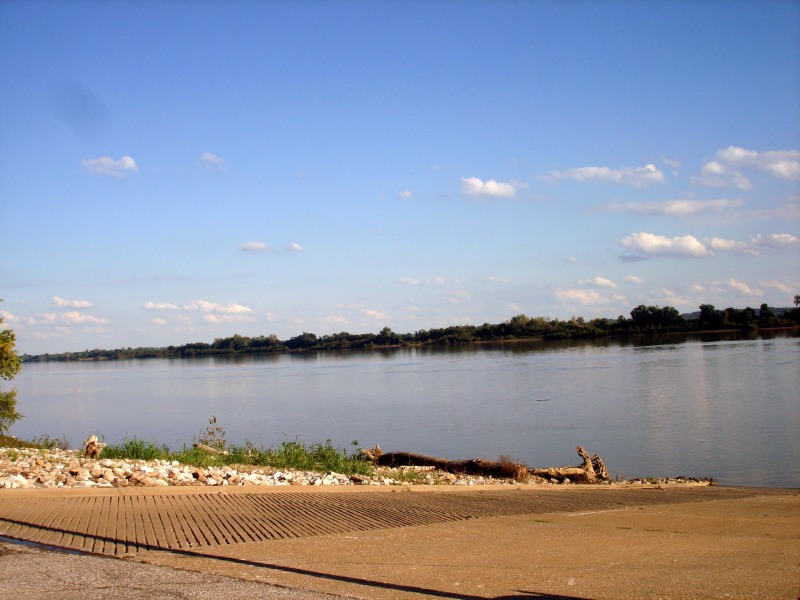 ​  "The Ohio River as seen from Grandview, Indiana."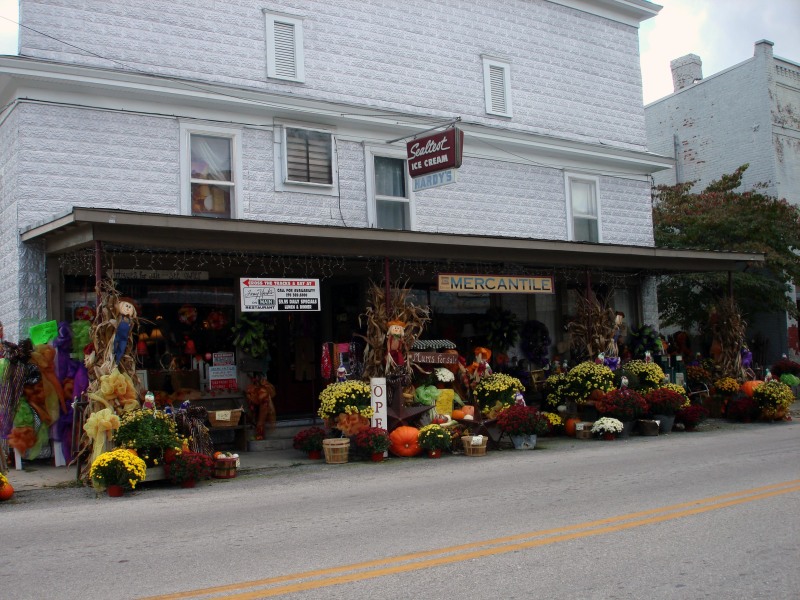 ​"The stores in Grandview, ready for Fall."


I rode on through the town and saw 2 boys on bicycles peddling slowly past old, but well kept homes.  A well fed dog trotted down the sidewalk.  An old dairy freeze building stood closed just past the business district.  I pulled in and peered inside the front windows.  Machines that once made milkshakes now stand sentry duty, having made their last concoctions years ago.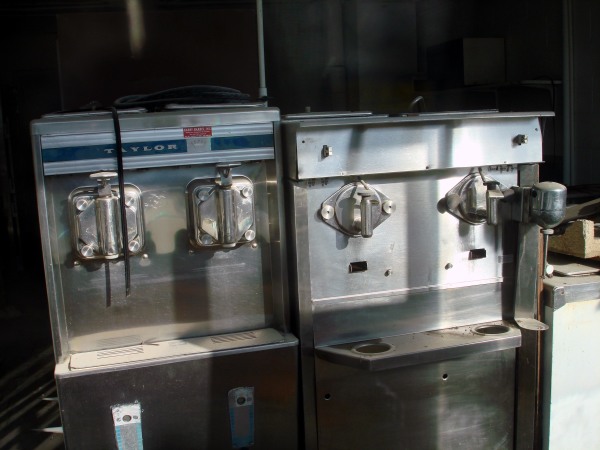 "Dusty old mixers inside the shut down Dairy Freeze."
 
​


It was getting late and I needed to move on from Grandview.


I stayed on SR 66 and rode east with the Ohio River on my right, and fields, timber on my left.  I began to see cornfields, lots of them.  Near Troy, I went past some kind of historical marker with a Lincoln profile.  "I better go back and see what that's about."  I doubled back to a pull out next to the river.  A man in a pick up occupied one of the parking spots.  From the saddle of my bike I read Lincoln worked here when he was a young man. He pulled the rope for the local ferry.


The man in the truck walked down to me and I told him my story.  He was older, perhaps in his 70s with wire rim glasses, and a warm smile.


"So you're just riding the country?"


"pretty much, but not like I use to, but I'll get back to it."


"alot people wish to do what you do'

"I know, I hear that often."


In Troy I left SR 66 for SR 545, my last route change of the day.  The Garmin piloted me through all the route changes without a hicup.  "This will take me into Meinrad."  My son told me not much there, just a small village that mostly supported the school.


As I rode north the cornfields grew more numerous, and more expansive.  The road had a few curves and I leaned as best I could on the poor tires.  The last 60 miles were best of the day, I was treated to a Harvest sunset.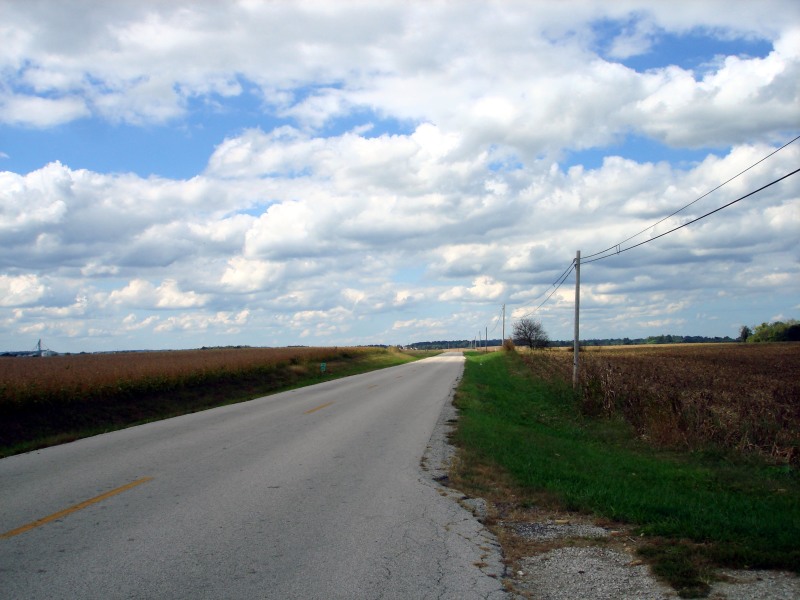 ​   'Late afternoon ride through Indiana.  SR 545


In many ways this ride reminded me of a Midwest Fall ride in 2002.  The weather was much cooler and drab on that ride, and the route was farther north through Indiana but the corn looked the same.


The whirl of the Honda was the only company I had for many miles as I sliced through the corn.  Pastures of green grass occupied the empty spaces between the corn stalks.  The smells of cut grass mixed in the air with that of  stalks.  It was memorable late afternoon ride.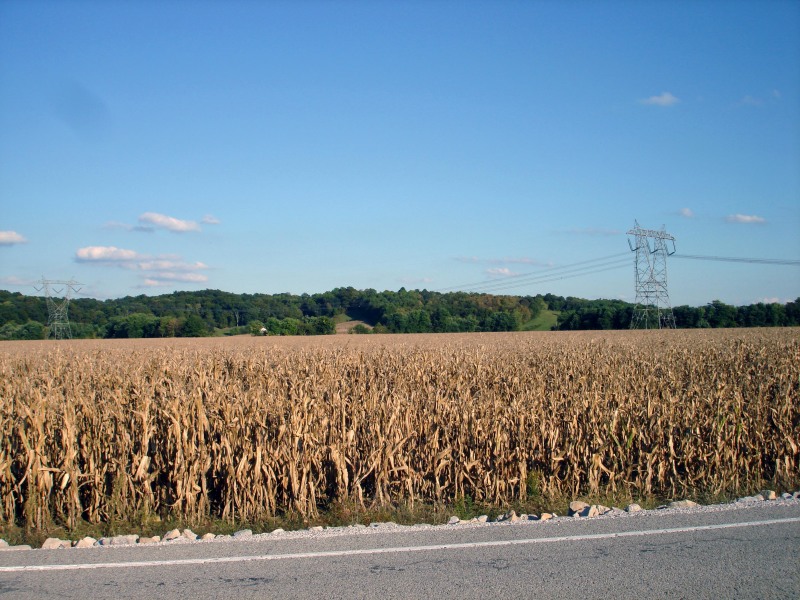 ​
The whirl of the Honda was the only company I had for many miles as I sliced through the corn."  



I cleared a left hand bend and the spires of St. Meinrad Seminary came into view.  Built on the tallest hill in the area, it can be seen from almost anywhere.  I used one of the entrance roads and idled up to a spot to call my son to come meet me.  Its a sprawling campus, and I'd need help getting where I needed to go.


I put the stand down after a 539 mile day.


Chris came down and showed me where to park and escorted me to my accommodations in the guest building.  It was good to see him.


"how was your ride?"


" a great ride on a great day"


My room was big, clean and neat.  Most of the rooms in this particular building are used by visiting priests on retreats or attending con ed classes.


We took a few minutes to catch up on things and I said, "look, lemme get a shower and I'll text ya to come get me and show me around."


I called Debbie and gave the latest report.  Since this was the first time one of us has been to Meinrad, she had a lot of questions I couldn't answer


" I dunno, I just got here, I'll know more later."


"Ok call me back."


I sent Chris a message and he came back and gave me the 5 dollar tour.  It is a quiet, peaceful place.  About 200 seminarians are enrolled here.  They come from all over the country.  The grounds and buildings are meticulously kept.  The structures are huge and easy to get lost in with so many floors and wings.  He showed me his dorm room and it was really nice.  Everything he needs within walking distance.


"it gets cold here, last year I went 3 days and never left the building because my classes, dorm, and cafeteria are in there."


The monks of St. Meinrad spend their lives in prayer, and community.  They make old fashioned wood caskets that they sell, some work in the fields, others write books, or on faculty.  It's a vibrant community.  They live simple lives,  and when one dies he is layed to rest in a simple grave in the community cemetery.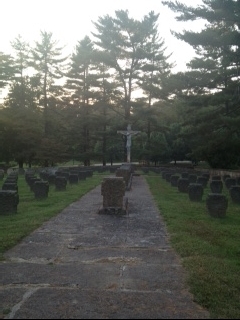 "The monks of St. Meinrad ask that you not leave 
flowers on the graves of their brothers, but honor
them with a prayer."
​


Supper in the cafeteria that night was chicken alfredo.  Neither of us do white creamy sauces so we skipped that and walked over to the campus hangout called "The Unstable."  A place a guy can get a beer, eat some pizza, shoot pool, and watch a ballgame.


I met many of his friends, and the pizza was surprisingly good.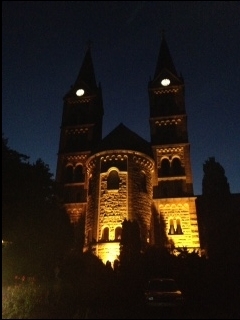 Heading 1


   "The abbey church at night."



We hung around the Unstable for 90 minutes and then Chris advised he had to get back to do some studying.  
"What time ya leaving out?"  He asked.


"7am I hope."


"Ok we have morning prayer at 8, text me when you get up"


"ok"


Back at the room I called Debbie and advised her Chris was in the Hilton of seminaries.


"Its a really nice place.  A city within itself.  Doctors and nurse even comes in 2 days a week to look after them.  the clinic is well staffed and equipped.  He's very happy.

"
I put some notes in my Idiary and watched a tv show I had downloaded to my Ipad.  It was a good evening.